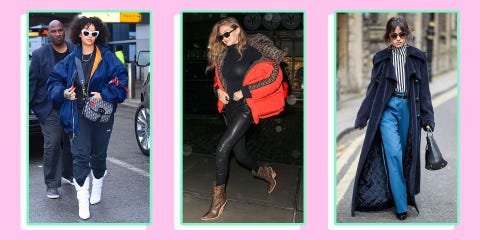 Raise your hand if your cute winter outfit has ever felt personally victimized by sub-zero winter temps. 🙋🙋🙋 Same girl, same. But your bulky parka doesn't have to ruin a perfectly grammable outfit. If you style it right, that winter coat will become your new favorite outfit addition – and not just because it keeps you warm.
But how exactly do you wear the necessary winter layers so that they add to your ensemble, instead of taking away from it? Well, the secret is all in the rest of your look. Color coordination, balancing volume, and smart use of textures (think: leather, faux fur, and suede) are just some of the genius winter fashion tricks used by your favorite celebs to totally nail cold weather street style.
Want to see for yourself? Click ahead for the coolest ways to wear cozy gear and still look mad cute.
This content is created and maintained by a third party, and imported onto this page to help users provide their email addresses. You may be able to find more information about this and similar content at piano.io