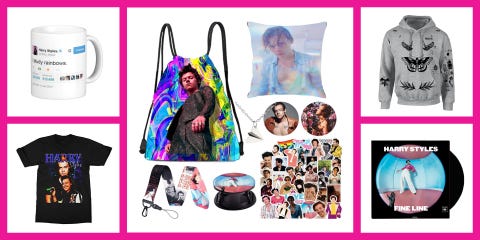 Ok, I'm sure that when you wrote "Harry Styles" on your Christmas wish list this is not what you had in mind. But until the day comes that his car breaks down outside of your house and he's forced to come inside to feed your fish, a massive pile of merch will have to do.
Ahead, you can shop the best fan merch inspired by Harry's tattoos, his (probably) delicious scent, and his (again, probably) silky soft curls. And just for the record, most items on this list are printed with at least one photo of his glowing face. I figured that would make you feel better.
1
Harry-Styles Fleece Throw Blanket
xianrenzhang
amazon.com
$37.99
Swaddle yourself in the warm embrace of Harry this holiday season.
2
Harry Styles Sequin Pillowcase
CleosCreationsShop
etsy.com
$24.99
I don't know why you'd even need the gold side, but whatever.
3
This Smells Like Harry Styles Candle
LuxyAndBlue
etsy.com
$16.99
I don't know if this is true, but I'm just going to pretend it is.
4
Harry Styles Merch Gift Set
For $22, you can cover basically everything you own (your phone, your laptop, your water bottle, your keys, your pillows) in the sexy smolder of Harrold.
5
Adult Hoodie Harry Tattoos
ALLNTRENDS
amazon.com
$44.94
Only die-hard Harry Styles fans are gonna get this one.
6
Dainty Paper Airplane Necklace
TheLonelyMoose
etsy.com
$42.30
Taylor Swift wearing this necklace lives rent free in my mind.
7
Harry Styles Treat People With Kindness AirPods Case
BeCool101
etsy.com
$10.49
We must protect the holy technology that delivers you Harry Styles songs.
8
Personalized Harry Styles Starbucks Cup
LovelyJENs
etsy.com
$18.00
Your two favorite things on earth: HS and cold brew.
9
100 Pcs Harry Styles Waterproof Vinyl Stickers
So that when you look at your Hydro Flask, 100 pictures of Harry's perfect face are staring right back.
10
Vintage Style Harry T-Shirt
Guava Iguana
amazon.com
$21.95
In loving memory of Harry's long hair. RIP.
11
Harry Styles Necklace "Golden"
BrilliantGiftsByLiz
etsy.com
$18.00
I'm not even going to tell you where this is from, 'cause I know you've got the entire music video memorized.
12
Harry Styles – Fine Line 2XLP
Urban Outfitters
urbanoutfitters.com
$39.98
If you didn't think his voice could sound any better, you haven't heard it on vinyl.
13
Personalized
We'll Be Alright Handwriting Ring
ParinPersonalized
etsy.com
$38.00
You can get any phrase (read: Harry Styles lyric) engraved on this ring in your own handwriting.
14
Treat People With Kindness – Harry Styles Tapestry
This tapestry feels a little bit more grown-up than hanging up 50 different Harry styles posters.
15
Coffee Mug Harry Styles I Study Rainbows Tweet Mug
This mug is dedicated to all the weird sh*t Harry Styles writes on Twitter.
This content is created and maintained by a third party, and imported onto this page to help users provide their email addresses. You may be able to find more information about this and similar content at piano.io